This presentation is a summation of ideas I've been having about the current situation we're in with regard to Synchronous and Asynchronous remote teaching and how we can think of all of our teaching methods as a form of Presence. It was originally a presentation to some of my colleagues, and I've abstracted it for a broader audience. The video was recorded on May 12, 2020, so please keep that in mind.
Ideas from:
So as the saying goes we live in unprecedented times.
Esther Perel is a Belgian psychotherapist and New York Times bestselling author is the creator of the podcast "Where shall we begin"
and "How's Work" and I was directed to read her recent blog post around "What is
this feeling? Anticipatory grief and other new pandemic related emotions".
One of the things that Esther Perel talks about is prolonged uncertainty: we keep
on not knowing how long this might go on for.
We also have the sense of ambiguous loss there are some things that we know that we've lost but there's so many things that have changed that we're not even sure to some extent what we have lost and what we recognize. There are
also positive emotions that come out of this: Viktor Frankl talked about the human capacity to creatively turn life's negative aspects into something positive or constructive. What Esther Perel
argues is that if we can if we can cultivate some tragic optimism together we can encourage some post-traumatic growth.
I know that I miss my staff and that I've learned that it's tremendously difficult to maintain a sense of connection and to keep up with everyone when you can't just walk by one of the facilities and check in with people and see how they're doing.
So much learning and so much of our lives is experienced through small moments of
connection with people.
I think this loss can be described as a loss of face-to-face contact: there's no after class chats there's no coffee talk, there are no hallway conversations, there's no chit chat before and after the meeting, and your entire routine of the academic life of going to the University and being on campus is completely disrupted. But really what's most important is this notion of presence and credit goes out to Jim Nottingham at from University of Arts London and his colleagues who
turned me on to David O White's work on Presence.

David is a Director of Digital Learning at University Arts London and wrote a fantastic piece on how presence is not about contact hours with students. There's very much a temptation in our
current time to do what he calls practice mirroring in the move to online teaching. Our initial instinct is to preserve contact hours by mirroring what have been face-to-face sessions with webinar style sessions. Part of our current condition involves a lot of assumptions that we have about students faculty and staff. So, the question becomes what do we do in this
situation? How do we accommodate teachers and learners who are in various
different situations with recommendations around synchronous and asynchronous learning?
Full credit to Mike Caulfield who is the Director of Blended and Networked Learning at Washington State Vancouver for his excellent Dirt Simple online blog post and website which outlines the work of Daniel Stanford.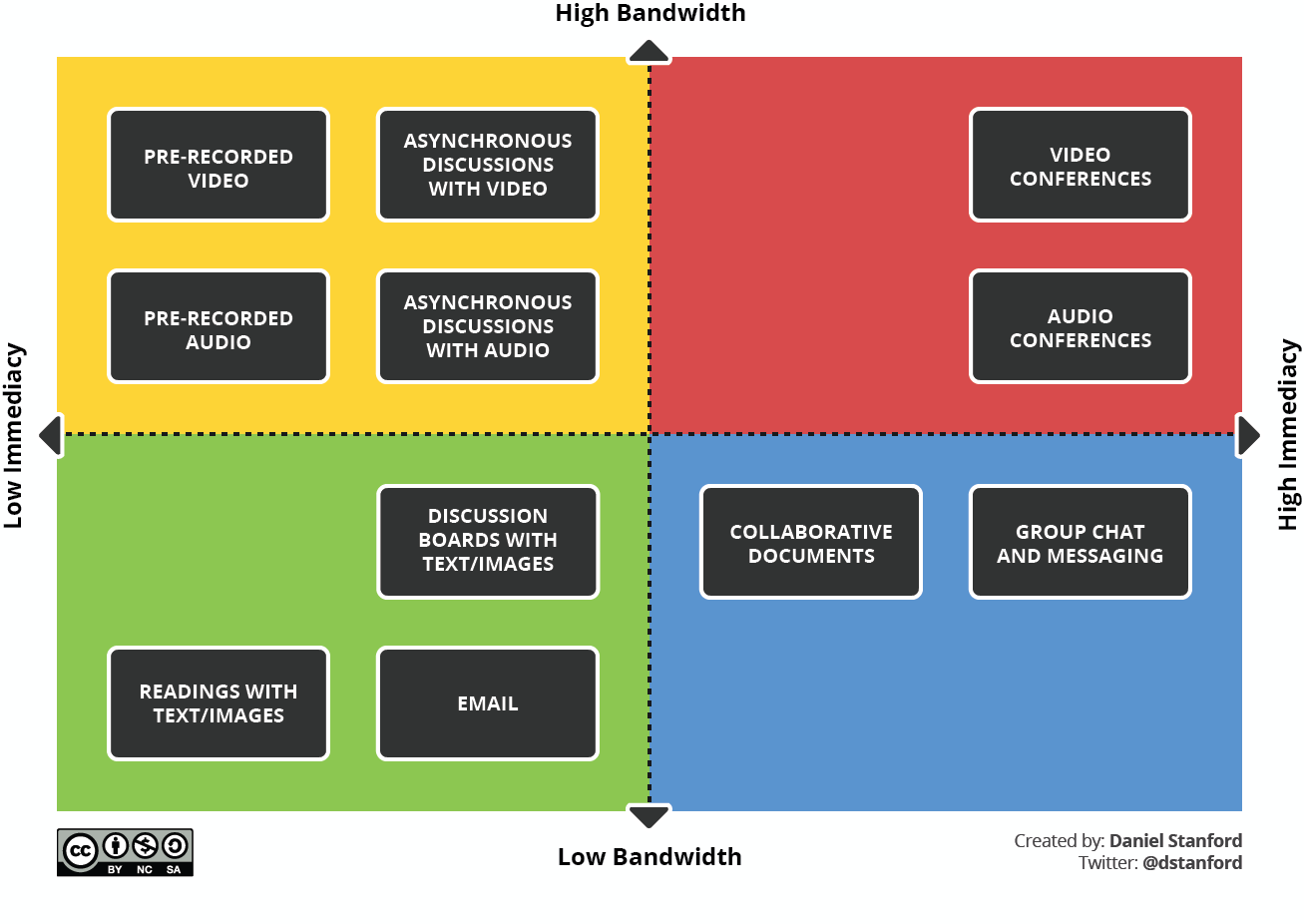 Daniel Stanford is the Director of Faculty Development & Technology Innovation at DePaul University and is also an art and design graduate from Savannah College. Daniel Stanford has created this amazing infographic which really illustrates the challenges and opportunities of various modes of curriculum delivery with synchronous and asynchronous. Both Mike Caulfield and Daniel Stanford talk about moving students into the "red zone". The red zone is where a lot of people want to spend time – video conferences and audio conferences – live synchronous stuff.
When we move students into the red zone we make a lot of assumptions about how prepared they are to do so. What's their network bandwidth like? Do they have a place in their house that they can accommodate this activity? Really when you think about it this whole chart is really describing what David O White calls presence. David Oh white describes presence as:
A fairly quick, reliable, turnaround to emailed questions

Being active 'live' in forums or text chats (an 'office hours' approach to asynchronous)  

Lively synchronous sessions – such as, webinars with plenty of Q&A

Artfully 'flipped' use of pre-recorded teaching videos 

Audio, video or text summative feedback (if it's been created just for you then it's always a moment of presence)

…and of course face-to-face sessions in various forms.

http://daveowhite.com/presence/
When somebody gets back to you right away you feel like they're almost there. The way to make a synchronous session lively, is to ensure that the participants are really driving the
content, and it's not a one-way delivery of information.
Asynchronous is on-demand whereas synchronous is a real-time event. Asynchronous is more flexible, you can stop, pause, rewind, watch it again whereas synchronous is live. Think about
asynchronous as being like Netflix and synchronous is being like broadcast television. Of course with live broadcast television, the stakes are higher: you can't make mistakes.
With asynchronous, you as an instructor have more preparation time and also more time to review. You can ensure higher quality items. You can build an accessibility on the front end. When you think about it, asynchronous was the way social media really started. Think about Facebook and Twitter: they really started as being largely asynchronous (although Twitter is quite a bit faster) neither Twitter nor Facebook ever had any real-time chat or synchronous video until much later. The social media giants gained their popularity as asynchronous platforms.
I've always said that some of these online platforms can test your attention and there's lots of research out there to support this. National Geographic has written a recent article about Zoom fatigue. Part of the problem with these platforms is that so much of our face-to-face interaction is communicated via nonverbal cues and those nonverbal cues are not captured in enough fidelity for us to be able to digest them. There is a huge focus on words. Sometimes, you can't actually see what a participant's facial expressions are, whether they're grimacing or sighing. Getting the read of the room is very difficult. It is even more problematic the more participants you have: the greater the number of participants that are displayed on the screen at one time some exacerbates this problem. Some platforms are able to display more
users on the screen but this just simply divides your attention.
The challenge that is that the technology and conditions create a lot of anxiety.
The belief that presence is synchronous video
Video conference fatigue
Students might be suffering from technological barriers: they may have poor internet or be continents away
Remote teaching and learning is not the norm
Sense of loss around hands-on learning
Varying levels of readiness with remote teaching and learning
All of these things can create a lot of anxiety.
What are the qualities of a great synchronous event?
Some of the best synchronous events I've attended are:
Shorter
More participants
The participants drive the content: meaning that participants can contribute via video, audio, screen share or even just in the chat, and they drive the conversation
Sessions have well attended, moderated Q&A and chat so that everyone can participate
Sessions are recorded, captioned and provided later so that you can go back and review
Asynchronous content means better accessibility. Students have more time to process and reflect on the work, and the content that's being provided: it means that they
have greater opportunity to participate. My colleagues in the Faculty curriculum
Development Center introduced me to this concept of the Community of Inquiry and connecting it to Universal Design for Learning. We have a way of thinking about how we
engage with our learners and then also we're doing so in a way that is highly accessible to everyone.
The concept is that there is social presence which is a student's sense of belonging in a course.
There's cognitive presence which is the extent to which the participants are able to construct meaning through sustained communication, and there's teaching presence which is designed
facilitation and the direction of cognitive and social processes for the purpose of of realizing personally meaningful and educational worthwhile learning outcomes. When you've put it all
together it creates the educational experience and this entire thing creates community for the students and the instructor together. It is through synchronous and asynchronous learning
this is created.
If you'd like this presentation or thought it could be improved in some ways send me an email hit me up on Twitter where I like to hang out with all the edtech folks and CIOs learning from greater minds than mine.
Thank you.